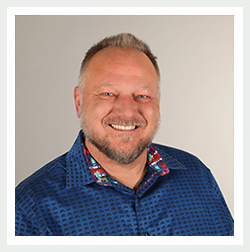 Kim Rene Shugart, always says of his unexpected name, with a genuine smile on his face, "tough name to grow up with." Because his name doesn't seem to fit his magnetic personality and towering stature, he has become accustomed to repeating, and even spelling his name, a couple times for those hands he is shaking for the first time. But after those first-time clients hear what he has to say, they soon realize that this guy with a funny name could make a serious impression on their brand.
More than 25 years ago, Kim began his career in marketing and communications in a garage in the San Francisco Bay Area. He was a founding partner of Shugart Matson Marketing Communications and also a founder of the Internet Services firm, Clear Ink.
His company soared from just a couple of dudes (and their talented, dedicated spouses) into a $150 million merger between these two companies—boasting over 160 employees. Kim served as President and CEO of the new Clear Ink Corporation in Northern California, playing a significant part in advertising, marketing, communications, and online communities.
Kim's imagination is unparalleled, and clients are continually blown away by his creativity honed into their company's vision.
Kim retired from Clear Ink in 2002 and he and his family relocated to Colorado Springs in 2003 to begin a new chapter in their lives. During this period Kim developed a successful consulting business working with a number of clients including Stellar Restaurant Solutions, Smart Choice Auto, Mr. Biggs, and others.
In his role as CEO of WickedThink Marketing, Kim has provided strategic and creative direction to such companies as Autobytel, Magnum Shooting Center, Rocky Mountain Bank & Trust, SYNQ3, Wildwood Casino, Rocky Mountain Men's Clinics, Vantage Homes, and many others.
Kim is strongly committed to serving the community and has served on a number of non-profit boards as well as supporting many non-profits in both the Bay Area and the Front Range. These include The Children's Literacy Center, Ronald McDonald House, America's Family, Susan G. Komen, Cross Purpose, Parents Challenge, The Boys and Girls Clubs, Project Inform (one of the first HIV/AIDS organizations), The Bay Area Rescue Mission, Firehawks Basketball, The Oakland Rebels, and many others. Beyond this, Kim and Diane also ran and personally funded the Clear Ink Foundation which gave substantial donations to many worthy causes. Kim holds a B.S. in Marketing from San Francisco State University. Charisma, charm, and impressive vision are some of his greatest qualities, and you'll see all three as soon as you shake his hand. With a cigar pressed to his lips and wearing one of his signature crazy shirts… some of his best work is done in ultimate comfort: legs propped up in a lounger with, maybe, a little snort of Johnny Walker Black.