Meet the Parents Challenge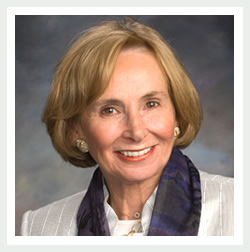 Honoring our Board Chair and Co-Founder, Joyce Schuck.
Joyce grew up in Lawrence, Long Island suburb of New York, with her parents, Frank and Florence Haber and her older sister Rolene, all of whom predeceased her. Having married husband Steve in 1958, immediately following his college graduation, they lived and worked in Syracuse and New York City before chasing their dream, moving to Colorado Springs in 1961 with their infant son Bill. Shortly after arriving, second son Tom was born, followed by daughter Ann seven years later.
Joyce was an extraordinary woman, beautiful at many levels, and bordering on being renaissance. Women in her generation were mostly homemakers, dedicated to supporting their husbands. But that, while important, was never enough for Joyce. She built her own life, returning to college and graduating with a degree in social work in her 40's. She loved playing tennis, even managing the tennis shop at Country Club of Colorado. She loved dogs with a not-so-surprising affinity for rescues – adopting three at one time. Joyce blazed new trails, cofounding Community Transitions and establishing a volunteer program for the District Attorney's office, helped building the DA's Shape Up initiative. Democratic Gov Ritter appointed her to the board of the Charter School Institute. Joyce served on the board of the League of Charter Schools and cofounded and chaired the Board of Colorado Military Academy, Colorado's first military charter school.
Joyce's commitment to children, particularly those who are disadvantaged, led her and Steve to create Parents Challenge over 21 years ago. The nationwide nonprofit empowers low-income parents with informational and financial resources to choose the schools they think are best for their children.
Never comfortable as a public or political person, Joyce went beyond her comfort zone to campaign with Steve for the Republican nomination for governor of Colorado in 1986. She was so good that many expressed a preference that she had been the candidate. Unbeknownst to Steve, Joyce kept a diary of the experience which she then converted into the much-heralded book she authored, "Political Wives, Veiled Lives." While much of what Joyce did often generated publicity and exposure, her highest priority always revolved around her three children, eight grandchildren, and 5 great grandchildren in addition to her lifelong, 63-year partnership with Steve.
Our family thanks the wonderful dedicated, caring team of professionals at Pikes Peak Hospice for their tremendous concern and support during Joyce's illnesses. Joyce and the family were particularly grateful to daughter, Ann, who dedicated much of the last year to providing her mother extraordinary full-time, 24-hour-a-day support, love, and compassion.
Joyce lived a full, exciting, and meaningful life. Her impact on so many others will be felt for decades and generations. She will be missed by many, but none more than her family, including: son Bill, and his wife Dede; granddaughters Hillary, Whitney and Gabrielle; son Tom; granddaughters Emily, Molly; and great grandchildren Madyson, Emyrson, Grayson, Hudson, and Liam; and triplet grandchildren, Conner, Colton, and Bryce.
The Schuck family requests that all who knew how special Joyce was to please not mourn her passing, but rather celebrate her life of grace, humility, intelligence, concern for others, and dignity. At Joyce's request, there will be no formal service and anyone feeling a desire to do something is encouraged to donate, in commemoration of her life of giving, to Parents Challenge, Youth Transformation Center, Colorado Military Academy, the Humane Society, or to any charity of your choice.
The Schuck Family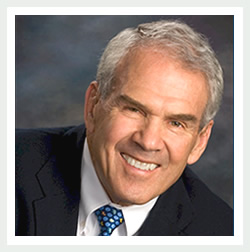 Honoring our Board Chair and Co-Founder, Stephen Schuck.
Steve Schuck's career resume reads more like an adventure, a mission to succeed and to lead. It began with an economics degree from the Wharton School of the University of Pennsylvania. Following graduation, he became a math teacher and head football coach at Manlius, prep school for West Point. After two years in New York City, he and his wife, Joyce, a published author, headed west. They have three children, six granddaughters, two grandsons and three great granddaughters.
The business Steve founded is wholly owned by the Schuck family. In the more than 50 years since its beginnings, the company has grown from a small real estate brokerage enterprise to a major developer of commercial, residential, industrial and mixed-use projects in multiple markets.
The Schucks have, or had, more than 50 joint ventures and partnerships, creating and developing more than 5,000 residential home sites and 10,000 acres of commercial projects in the Denver, Colorado Springs, Portland, and Phoenix markets, valued in the billions of dollars.
Steve Schuck's leadership has also extended to many community and civic challenges, including being or having been a trustee of the Daniels Fund and Alliance for School Choice, Life Skills Center, Rocky Mountain Community Foundation, Step 13, the Bighorn Center, the Colorado Alliance for Reform in Education, Independence Institute (past Chairman), CACI, Kids Voting, The Career Building Academy, Colorado Springs Chamber of Commerce, Pikes Peak Y-USO, Junior Achievement, Boy Scouts, Western National Bank, Penrose Hospital, National Jewish Hospital, and the UCCS and CU Foundations.
As a founder or co-founder of both the state and the Colorado Springs private economic development programs, the Greater Denver Corporation, the Colorado Leadership Forum, and the Republican Leadership Program (now the Leadership Program of the Rockies), his entrepreneurial accomplishments reach far beyond business.
Presently his focus is on improving public policy, both in Colorado and nationally, so that all parents, regardless of their circumstances, are empowered to choose the education they think is best for their children. In early 2003, his efforts contributed to the passage of Colorado's HB 1160, then the country's newest and strongest school choice legislation. And he and Joyce have backed up their commitment to education by creating and funding Parents Challenge, which has provided scholarships and grants to more than 1700 disadvantaged kids in both public and private schools.
He has been named "Citizen of the Year" by the Colorado Springs Chamber of Commerce, the Colorado Association of Homebuilders, the Urban League, the Board of Realtors, the El Paso County Republican Party, and has received a medal of merit from the University of Colorado Board of Regents, Step 13's first award of leadership, the David S. D'Evelyn Award for Inspired Leadership from the Independence Institute, the YMCA's Woodgate Award and the National Center for Neighborhood Enterprise's Achievement Against the Odds "Pharoh" Award and, with Joyce, was chairperson of the Easter Seals Telethon, the March of Dimes Mothers March, and received the Lions Heart Award from CSCS. Gov. Owens proclaimed Oct. 15, 2004 as Steve Schuck Day. Steve also received the Ellis Island Medal of Honor Award, was named Honorary Dean of Real Estate by the Franklin L. Burns School of Real Estate, Daniels College of Business, University of Denver, received the Colorado Springs Gazette newspaper's Freedom of Spirit Award, was honored by the Red Cross with its Humanitarian Award, and by the mayor of Colorado Springs with his "Spirit of the Springs" award.
Steve Schuck believes passionately that "Everyone will benefit when business entrepreneurs bring their real world experience and talent, developed in the competitive marketplace, to society's challenges."
So he took his thoughts on improving government even a step further. He ran for the Republican nomination for Governor of Colorado in 1986, hoping to apply his community and business leadership to the challenges facing his state. He lost by fewer than 3,000 votes, but made, and still makes, important contributions to the political landscape. As a candidate, he was endorsed by the Denver Post, which praised his "restless energy, driving intelligence, infectious humor and contagious need to do something."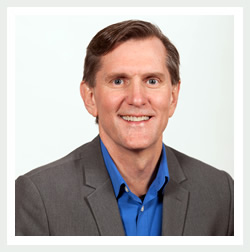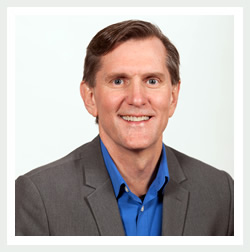 Vance Brown
Vance has over 25 years of experience as a high-tech entrepreneur and CEO. Currently Vance is co-founder and guide/mentor at Thrivers Leadership Institute (thrivers.com) and co-founder and board president of a holistic accelerator/incubator for entrepreneurs called Exponential Impact (exponentialimpact.com).

Until Nov. of 2020 Vance was the CEO of the National Cybersecurity Center (NCC). Founded in 2016 by then Governor and current Senator John Hickenlooper, the NCC is a cybersecurity think-tank that is getting global recognition for its innovation and thought leadership. (cyber-center.org) The NCC also is the operational arm of the Space ISAC. (s-isac.org)

Vance was co-founder and CEO of Cherwell Software (a service management company) from its inception in 2004 until 2016 (currently part of Ivanti). In 2014 Cherwell was recognized as one of the 101 fastest growing companies in North America (tied with LinkedIn) by Deloitte's Fast 500 and in 2015 was Colorado's software company of the year. Cherwell has customers in over 40 countries. (cherwell.com; ivanti.com)

Formerly, Vance was CEO of GoldMine Software, which was rated as one of the top 100 software companies in the US. Vance also is co-founder of The Classical Academy, the largest K-12 charter school in Colorado.

Through the years, Vance has raised hundreds of millions of dollars from firms such as Insight Venture Partners and KKR. Most recently Vance raised $222 million from KKR.

In 2009 Vance was given the Excellence in Entrepreneurship Award by Wake Forest University. Additionally, Vance was named EY Entrepreneur Of The Year™ 2014 Award Winner and then served as EY national judge for 3 years in the technology category. Vance also was named one of the "100 most intriguing entrepreneurs" by Goldman Sachs.

Vance graduated summa cum laude from Wake Forest, with degrees in Economics and Computer Science, and then from the University of North Carolina School of Law. He finished on Law Review and Order of the Coif and practiced in the area of intellectual property law. Vance still is licensed in the District of Columbia.

Vance serves on the board for charitable organizations such as Parents Challenge, Foundation of the Heart, and the Legacy Institute. He also is a lifetime Honorary Commander Emeritus for the US Air Force Academy and currently is a Civic Leader for the US Air and Space Force.

Vance is an inventor on two patents and a blockchain enthusiast.

In 2018, Vance was named the "Business Citizen of the Year" in Colorado Springs.

Vance has been married to Betsy for 34 years.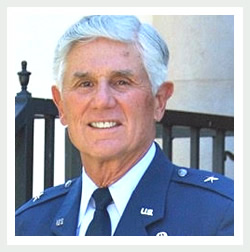 Retired Brigadier General Randy Cubero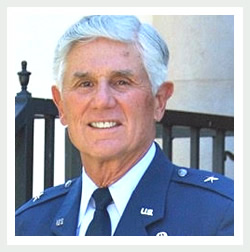 Retired Brigadier General Randy Cubero
Ruben Cubero had a distinguished military career spanning 37 years as an Air Force Officer, which culminated in his selection to Brigadier General and Dean of the Faculty at the United States Air Force Academy.  His last seven years in the military were spent formulating Academy core values and a "professional officer ethos," mentoring cadets and subordinates, and developing an Academy-wide Character Development Program.  Mr. Cubero is a Command Pilot with 6700 flying hours and 243 combat missions in Vietnam.  
After retiring from the Air Force in 1998, Mr. Cubero has executed key roles including the Athletic Director at the University of Colorado at Colorado Springs, UCCS and the President of the Falcon Foundation, a non-federal entity and 501-(c) 3 organization created to support the United States Air Force Academy's Admissions process.
In 2012 Mr. Cubero became the President/CEO of Parents Challenge Foundation another 501-(c) 3 that provides low-income families with scholarship and grant funding to have their children attend a better performing K-12 school in the Colorado Springs area and has remained on their Board of Directors since retiring.  
Mr. Cubero has a B.S. from the USAF Academy, an M.A. in Latin American Studies from the University of New Mexico, and a Ph.D. in Higher Education/Admin from the University of Denver. 
Although officially retired, Mr. Cubero is deeply immersed in finding ways to assist homeless veterans in El Paso County obtain medical care, job training and permanently leaving behind homelessness.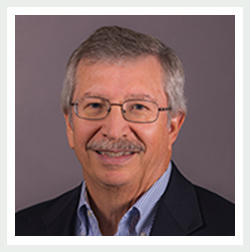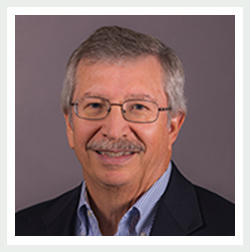 Steven L. Everson, J.D.
Steve has served as Vice President, Secretary/Treasurer for The Schuck Corporation, Schuck Communities, and their affiliates, since 1982. His responsibilities include transaction contracts and closings, lender relationships, coordination of outside legal counsel, tax and financial planning, and metro district activities.
Prior to joining Schuck, Steve was a Senior Tax Accountant with Deloitte & Touche where he specialized in tax planning and compliance for partnerships, individuals and corporations, with heavy emphasis on real estate tax research and transaction structuring.
Steve graduated from West Virginia University with a mathematics degree, Magna Cum Laude and Phi Beta Kappa, and served as a computer systems operations officer for NORAD while in the Air Force. After four years of Air Force duty, Steve graduated from Northwestern University School of Law. He is a licensed attorney and an inactive CPA.
Steve volunteers for AspenPointe, Inc. (Board Treasurer), Parents Challenge (Secretary/Treasurer), the Schuck Foundation (Secretary/Treasurer), Colorado Springs Christian Schools (Former Chairman of the Board of Directors), CSCS Lions Foundation, and is a former board member of Silver Key Senior Services and the Boys and Girls Club. Steve was honored as the 1999 and 2002 Volunteer of the Year by the Pikes Peak Mental Health Center, and was also honored as the outstanding Board Member for 2002 by Pikes Peak Mental Health Center. Steve has also volunteered with Special Olympics, taught Junior Achievement classes and coached youth sports teams for the YMCA, Colorado Springs Parks and Recreation and Colorado Springs Christian Schools.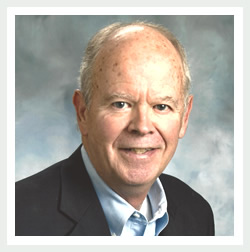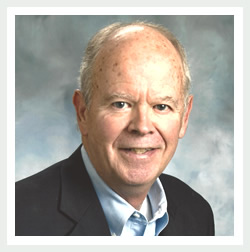 Al Farr
Summary of Qualifications: 
United Health Group ($34 billion Fortune 100 company] Minnetonka, MN
► President & COO, Ovations > May 2002 – Aug. 2004 ($6.8 billion division]
► President & COO, Small Business, UHC >Oct. 1999 -Apr. 2002 ($6 billion division]
► President, AARP Division > Nov. 1996 – Sept. 1999 [$4 billon division]
► Corporate Vice President, Management Process > Jan. 1996 – Oct. 1996
Penrose-St. Francis Health System ($360 million healthcare system] Colorado Springs, CO
► President & CEO> ApriI 1991 – January 1996
► Sr. Vice-President & COO> March 1988 -April 1991
St. Francis Healthcare ($60 million healthcare system] Colorado Springs, CO
► President & CEO> March 1978 – February 1988
Charter Medical Corporation [Publicly traded hospital management company] Macon, GA
► Administrator, Colorado Springs Community Hospital> May 1976 – February 1978
Wesley Medical Center Wichita, KS
► Night Administrator> June 1974 – May 1975
► Administrative Resident> September 1973 – May 1974
Military Service:
United States Army Medical Service Corp
► Positions in healthcare facilities at Fort Hood, TX and Vietnam> 1970 – 1972
Education:
Washington University St. Louis, MS
► Master of Healthcare Administration> 1974
Louisiana State University Baton Rouge, LA
► Bachelor of Science, Zoology> 1969
Past Professional Memberships and Boards:
► American College of Healthcare Executives
► Colorado Hospital Association Board
► Chairman, Board of Directors
► Chairman, Blue Cross Negotiating Committee
► Chairman, Legislative Committee (2 years]
► Chairman, Southeasl/South Central District of Colorado Hospital Association
► Colorado Foundation for Medical Care Board [PRO for State of Colorado]
► Franciscan Healthcare of Colorado Springs [five hospitals, two nursing homes]
► Sisters of Charity Health Care Systems, Inc. Finance Committee
► St. Anthony Hospital Systems Board of Directors (700 bed hospital/Denver, CO]
► Baird Kurtz & Dobson Advisory Board
► Cheyenne Mountain Zoo Board of Trustees
► Colorado Springs Chamber of Commerce Board of Directors
► Goodwill Industries of Colorado Springs Board of Directors
► Greater Colorado Springs Economic Development Corporation-Chairman
► Junior Achievement Board of Directors
► Silver Key Board of Directors Chairman
► Young Life of Minneapolis Board of Directors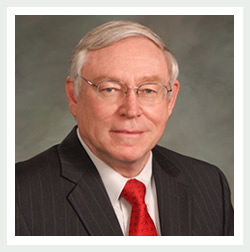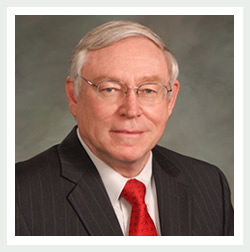 Robert Gardner
Graduate of the U.S. Air Force Academy in Colorado Springs
Air Force Veteran
J.D. from the University of Texas
Practicing Attorney for Over 30 Years
Elected to the Colorado House of Representatives from 2006 to 2016
Elected to the Colorado State Senate in 2016, re-elected in 2020. Term ends in 2024
Senator Bob Gardner represents Colorado Senate District 12 in Colorado Springs. 
Senator Gardner has been a practicing attorney for over 30 years and continues to practice law in Colorado Springs. His practice emphasizes federal procurement law, administrative and regulatory matters, as well as education law focused on school choice and charter schools. Senator Bob Gardner is a graduate of the U.S Air Force Academy and served as a missile launch officer. While an officer in the Air Force, Senator Gardner received his J.D. from the University of Texas. In 2006, Senator Gardner was elected to the Colorado House of Representatives where he represented House District 21/20 for four terms. Senator Gardner was elected to serve Senate District 12 in 2016.
Senator Gardner is a fierce advocate for school choice and fights to provide Colorado students with more individualized education options that suit their needs. Senator Gardner works hard to empower families and communities in Colorado, and streamline government to increase accountability to the taxpayers who fund it.
Senator Gardner is the proud father of two adult children, Bob Jr., a graphic designer, and Laura, an attorney.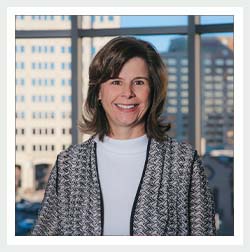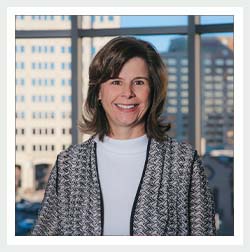 Lisa Jesse
Lisa Jesse was a co-founder of Intelligent Software Solutions (ISS). ISS, now part of Parsons, was a leading provider of advanced data analysis and visualization systems with over $100M in annual revenue and on the Inc 500 Fastest Growing Companies list for 7 years. During her tenure at ISS, Ms. Jesse served as the Vice President of the ISS Advanced Technology Division, responsible for technology research and development. In her role as a principal scientist, she led strategic planning, business acquisition, management, and execution of advanced technology R&D programs.
Prior to co-founding ISS, Ms. Jesse was the program manager and principal investigator for several programs at Northrop Grumman, GTE Government Systems, Logicon and Texas Instruments, where she received numerous awards for technical achievement. During her tenure at GTE, Ms. Jesse was the Colorado Springs manager for internal research and development programs where she was responsible for the strategic planning and management of advanced technology projects.
Ms. Jesse completed both her Master's degree in computer science with an emphasis on artificial intelligence, and her Bachelor of Science in computer science at the University of Colorado at Colorado Springs. She has over 25 years of experience developing a wide variety of products addressing challenging problems in pattern detection, behavior modeling, sensor fusion, planning and scheduling, and speech recognition that utilized advanced technologies in Artificial Intelligence, machine learning, data mining and data visualization.
Since her retirement from the private sector, Ms. Jesse is active in several philanthropic activities in the areas of education, human services, and high-tech entrepreneurship. Her passion is helping children reach their maximum potential through education. In this capacity, she serves as a reading tutor with Children's Literacy Center and has participated in several STEM outreach initiatives to girls and underrepresented students.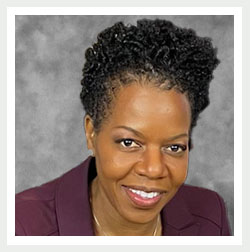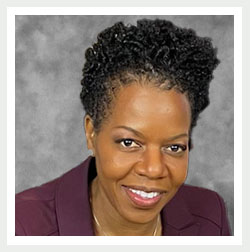 Regina Lewis
Dr. Regina Lewis leads and has alliances with worldwide organizations, specializing in leadership development and organizational communication. With clients ranging from Fortune 500 companies through not-for-profit agencies to educational institutions, Dr. Lewis' proven specialty is leadership, professional excellence, culture inclusion, entrepreneurship, executive coaching, strategic development, and executive public speaking coaching.
Regina is a consulting partner, international speaker, virtual moderator, and CEO of ReginaSpeaking, LLC. Through this company, she has worked with clientele executives, groups, and organizations in Saudi Arabia, Lebanon, Hong Kong, China, Ethiopia, Vietnam, Brazil, and the United States to name a few.
Dr. Lewis has presented her award-winning program, Cultural Excellence: Ideas, and Discussions (CEID) and facilitated widely on topics of cultural competence, diversity, and inclusion, cross-cultural leveraging, strategic planning, executive speaking, interpersonal communication, entrepreneurship, media & public relations, social media, academic retention, and understanding and climbing out of poverty.
As a war veteran who honorably served the United States Air Force Dr. Lewis currently Regina is the Special Assistant to the President for Academic Excellence and Inclusion, the Department Chair and Professor of Communication at Pikes Peak Community College, and an executive coach for the Center for Creative Leadership.
Regina holds a doctorate in Educational Leadership, Research and Policy, a Master of Arts in Communication, a Bachelor of Arts in Communication, and a Bachelor of Arts in Psychology. Regina's work in the area of diversity and inclusion has become an award-winning program. Additionally, her publications are found in books, refereed journals, and educational textbooks.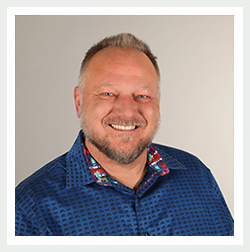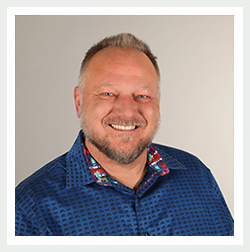 Kim Shugart
Kim Rene Shugart, always says of his unexpected name, with a genuine smile on his face, "tough name to grow up with." Because his name doesn't seem to fit his magnetic personality and towering stature, he has become accustomed to repeating, and even spelling his name, a couple times for those hands he is shaking for the first time. But after those first-time clients hear what he has to say, they soon realize that this guy with a funny name could make a serious impression on their brand.
More than 25 years ago, Kim began his career in marketing and communications in a garage in the San Francisco Bay Area. He was a founding partner of Shugart Matson Marketing Communications and also a founder of the Internet Services firm, Clear Ink.
His company soared from just a couple of dudes (and their talented, dedicated spouses) into a $150 million merger between these two companies—boasting over 160 employees. Kim served as President and CEO of the new Clear Ink Corporation in Northern California, playing a significant part in advertising, marketing, communications, and online communities.
Kim's imagination is unparalleled, and clients are continually blown away by his creativity honed into their company's vision.
Kim retired from Clear Ink in 2002 and he and his family relocated to Colorado Springs in 2003 to begin a new chapter in their lives. During this period Kim developed a successful consulting business working with a number of clients including Stellar Restaurant Solutions, Smart Choice Auto, Mr. Biggs, and others.
In his role as CEO of WickedThink Marketing, Kim has provided strategic and creative direction to such companies as Autobytel, Magnum Shooting Center, Rocky Mountain Bank & Trust, SYNQ3, Wildwood Casino, Rocky Mountain Men's Clinics, Vantage Homes, and many others.
Kim is strongly committed to serving the community and has served on a number of non-profit boards as well as supporting many non-profits in both the Bay Area and the Front Range. These include The Children's Literacy Center, Ronald McDonald House, America's Family, Susan G. Komen, Cross Purpose, Parents Challenge, The Boys and Girls Clubs, Project Inform (one of the first HIV/AIDS organizations), The Bay Area Rescue Mission, Firehawks Basketball, The Oakland Rebels, and many others. Beyond this, Kim and Diane also ran and personally funded the Clear Ink Foundation which gave substantial donations to many worthy causes. Kim holds a B.S. in Marketing from San Francisco State University. Charisma, charm, and impressive vision are some of his greatest qualities, and you'll see all three as soon as you shake his hand. With a cigar pressed to his lips and wearing one of his signature crazy shirts… some of his best work is done in ultimate comfort: legs propped up in a lounger with, maybe, a little snort of Johnny Walker Black.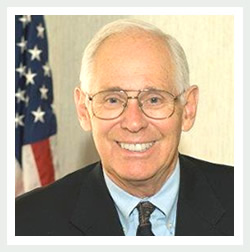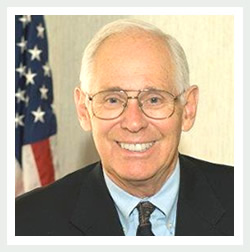 Joe Woodford
Joe Woodford retired from active management of WCM Industries, Inc in 2006 after over 40 years with the company, most of that time as President/CEO, and he continues with WCM as its Board Chairman. WCM had two operating divisions, Woodford Manufacturing in Colorado Springs, Colorado and Watco Manufacturing in Independence, Missouri when he retired and the company now has two more divisions, ISIMET/MAPA in Naples, Texas and Perma-Cast in Pueblo, Colorado.
His nonprofit work includes Board memberships with Silver Key Senior Services, The Myron Stratton Home, Goodwill Industries, Citizens' Goals, Springs Community Action Network, and a number of others. He was a member of several hospital and bank Boards, and was a member of the Vestry, Treasurer and Senior Warden at The Chapel of Our Saviour. He co-founded the Center for the Study of Government and the Individual ("CSGI") at the University of Colorado-Colorado Springs in 2000 with Jim Null, PhD. A primary focus of CSGI is the "Program for Preserving a Free and Prosperous Society." He also founded the Pikes Peak Minority Business Foundation which later became the Pikes Peak Minority Opportunity Fund operated in connection with Cheyenne Mountain Civic Solutions and the Sachs Foundation. After retirement he formed the Limited Government Forum funded by the Woodford Foundation for Limited Government for which he serves as senior trustee. He also was instrumental in helping to found Cheyenne Mountain Civic Solutions and has helped to bring the concepts of Icehouse to Colorado Springs. In 2011 the Woodford Foundation agreed to become the managing director for Bastiat-Colorado Springs; Woodford Foundation's other program continues to be the Limited Government Forum which now is primarily engaged in making "LGF Grants" to help people in SE Colorado Springs, zip codes 80910 and 80916, the area of focus for El Pomar's RISE project.