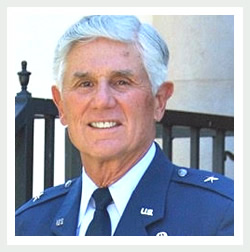 Retired Brigadier General Randy Cubero
Ruben Cubero had a distinguished military career spanning 37 years as an Air Force Officer, which culminated in his selection to Brigadier General and Dean of the Faculty at the United States Air Force Academy.  His last seven years in the military were spent formulating Academy core values and a "professional officer ethos," mentoring cadets and subordinates, and developing an Academy-wide Character Development Program.  Mr. Cubero is a Command Pilot with 6700 flying hours and 243 combat missions in Vietnam.  
After retiring from the Air Force in 1998, Mr. Cubero has executed key roles including the Athletic Director at the University of Colorado at Colorado Springs, UCCS and the President of the Falcon Foundation, a non-federal entity and 501-(c) 3 organization created to support the United States Air Force Academy's Admissions process.
In 2012 Mr. Cubero became the President/CEO of Parents Challenge Foundation another 501-(c) 3 that provides low-income families with scholarship and grant funding to have their children attend a better performing K-12 school in the Colorado Springs area and has remained on their Board of Directors since retiring.  
Mr. Cubero has a B.S. from the USAF Academy, an M.A. in Latin American Studies from the University of New Mexico, and a Ph.D. in Higher Education/Admin from the University of Denver. 
Although officially retired, Mr. Cubero is deeply immersed in finding ways to assist homeless veterans in El Paso County obtain medical care, job training and permanently leaving behind homelessness.